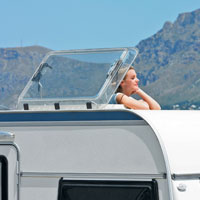 Other
SEITZ S4 WINDOW 34M 1000X800 (DOM0401132)
$615.00
Incl. 10% GST
S4 series: tailor-made by the market leader

Looking for a quality framed window solution for your motorhome or caravan? Then we recommend the hinged windows from the Dometic SEITZ S4 series. They come with excellent references. After all, they were designed by the international market leader for polyurethane and aluminium window systems and have been installed countless times already. They stand for high functionality, first-rate quality, easy operation and are available in any conceivable size. The window you want is guaranteed to be there!
S4 hinged window - the complete system

Proven millions of times: complete windows for motorhomes and caravans with telescopic hinges for convenient ventilation and built in blackout roller blinds and fly screens. This outstanding insulation corresponds to construction standards for homes. Security locking system prevents windows from being opened on the outside.
SPECS
Width: 1000mm
Height: 800mm
Overall Width: 1048mm
Overall Height: 832mm
Cut-Out Width: 1002mm
Cut-Out Height: 799mm
Clear Opening Width: 904mm
Clear Opening Height: 564mm
Corner Raduis: R12
FEATURES
Convenient one-hand operation:
fly screen and blackout roller blinds can be clipped together and adjusted with one hand, independently or combined at the same time.
Top hinged window with telescopic arms allowing easy opening and setting into various positions.
Easy handling in different positions.
High degree of insulation: blackout roller blinds with aluminium coating.
Quick and easy installation.
Robust quality with double acrylic glazing.
Highly versatile: for wall thicknesses 34 mm upwards.
Maximum security - window cannot be opened from outside.
High quality polyurethane frames eliminates condensation.
Large range of sizes.