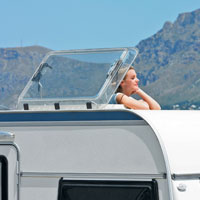 Other
Caravan Ventilation Systems - For The Fridge and Bathroom
Travelling in a mobile home during summertime can be hot enough as is. Now imagine the fridge adding to the already high temperature. If you have to run the air-conditioning system on maximum just to cope, your fuel consumption will soon become an issue. Inadequate refrigerator ventilation will not only make your journey uncomfortable, if not unbearable, but can also do serious damage to your fridge.

Investing in proper caravan fridge ventilation can save your appliances and your trip. In order for a refrigerator to perform at its best and for maximum cooling it must always be sufficiently ventilated. The Dometic fan can pick up the slack on those hot days to ensure that the fridge stays cool inside and out. Easily attachable to the back of the cooling unit, this hassle free system will keep your fridge and your caravan nice and cool.

Good caravan ventilation systems can eliminate mould and unpleasant smells. It is important to dehumidify and aerate your mobile home regularly to protect it against the damaging effects of dampness, mildew and rust, especially in the bathroom. With Dometic's caravan bathroom ventilation unpleasant odours will become a thing of the past. You can enjoy your private time whilst the rest of your family enjoy the other areas of the caravan.

Browse our range of ventilation systems and improve your caravan and travel experience with one of our superior products.
HIDE CATEGORY DESCRIPTION ^
SHOW CATEGORY DESCRIPTION v