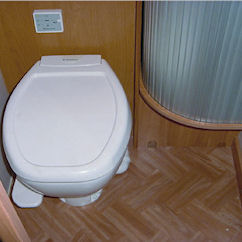 Toilets
TOILET SANEO CS NO DOOR (9107100658)
$839.00
Incl. 10% GST
Saneo
​Cassette toilet with better seat comfort
The new Dometic Saneo cassette toilet has all the features required for mobile living needs, including improved comfortable and adjustable seat design with soft auto closing seat and lid, plus touch control flushing.
Saneo comes complete with Dometic wall access hatch SK5, for easy access to the cassette. Unique to the new Saneo is the soft auto close seat and lid; the dual close double cassette and bowl valves; and the adaptive touch sensitive flushing control.
The Saneo ceramic bowl cassette toilet includes antisplash-back that also improves ventilation of the cassette. A specifically designed and patented flush wave in the Saneo provides the perfect amount of water to flush the bowl clean.
Should there be any family emergencies whilst emptying the cassette, the Saneo dual close function allows the cassette and bowl to be closed independently, which means no waste can rinse through to the base while the cassette is out and can be used for a last single use whilst the cassette is removed.
SPECS
Weight: 10.5kg
Depth: 597 mm
Height: 681 mm
Colour: White
Width: 375 mm
Capacity: 16 litres - waste tank
Cassette:
Flush Tank Capacity:
FEATURES
Seat ergonomically optimised for comfort
Seat and bowl are able to turn 90 degrees in both directions
Scratch-resistant ceramic inlay
Touch control panel
40 mm reduced depth compared to competing models
Easy to clean
The patented features include;
Soft auto closing seat and lid
Dual close cassette and bowl that can seal independently
Adaptive flushing control