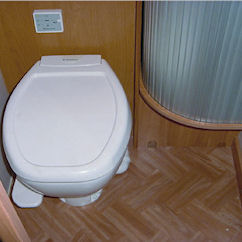 Toilets
511PS TRAVELER WHITE (302511221)
$669.00
Incl. 10% GST
511PS Traveller White
Gravity drop through toilet with ceramic bowl and a clean white domestic appearance.
SPECS
Weight:
Depth: 521mm
Height: 371mm
Colour: White
Width: 438mm
Capacity:
Cassette:
Flush Tank Capacity:
FEATURES
Water efficient.
Lasting finish of vitreous china keeps its brilliant high gloss finish
Self cleaning ball valve.
Solid ceramic bowl.
Easy installation.
Easy to clean.