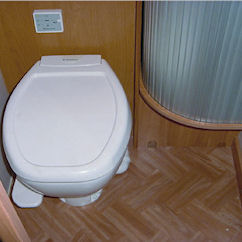 Toilets
Experience perfect mobile comfort and hygiene – with system solutions by Dometic.
Combining perfectly matching components, the comfort specialist Dometic offers you the ideal solution for mobile hygiene. Well-engineered, portable toilets and innovative sanitation fluids add up to a comfort-enhanced system for undiminished holiday enjoyment. Based on advanced technology and unique formulas, Dometic proves the advantages of its know-how. Reap the benefits of decades of research and development: exemplary hygiene and freshness, free from unpleasant odours and very easy to clean.

Traveler toilets setting new quality standards with all the great Dometic features. Vitreous china bowls keep its brilliant high gloss finish for years, no scratching or stains. Supplied in brilliant white with large set and bowl easy to operate flush pedal.
Ceramic cassette toilet with high-grade, scratch-resistant ceramic inlay – stain-repellent and easy to clean. The space-saving round seat – revolving up to 90° in both directions (in 15° steps) – gives you more room in the bathroom. A new caddy tank on wheels facilitates waste removal.
Portable toilets the 970 series is particularly space-saving and easy to handle. The strong 360° pressure flush with push-button control ensures effective and powerful cleaning. Special vented outlets allow for quick and easy tank discharge.
Dometic Care supreme efficiency and environmental compatibility are the hallmarks of Dometic Care sanitation fluids. They improve hygiene and create a fresh smell inside your recreational vehicle. Enjoy more comfort and well-being in your mobile life.

HIDE CATEGORY DESCRIPTION ^
SHOW CATEGORY DESCRIPTION v