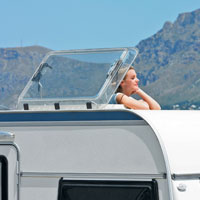 Other
Quality Spare Parts
More and more people become 'Do It Yourself' specialists when upgrading their mobile homes and thanks to Dometic RV Centre's superior products, they can be easily installed by almost anyone. When you do your own work though, having access to the right spare parts is crucial. With knobs, handles, screws and spring housing for freezer doors readily available, we have the parts you require.

Our range of caravan Truma products can provide more comfort when you are on the move. Almost every camper in Europe knows and trusts the Truma brand. The company has been supplying useful and necessary accessories for mobile homes since its beginnings. Their products are amongst the highest performing in the market today and provide innovative solutions to every camper's problems.

With Dometic RV Centre's spares, including inlets, outlets and valves, you can be sure to find the spare part you need. Browse our range online and find the perfect accessory to complete the work and get started on your journey.

We specialize in providing high-class and affordable accessories for all your needs. The Dometic brand has gained a reputation of providing excellent products, which ensure your RV holiday will become a memorable one. Be sure to choose the market leaders when buying goods for your caravan to ensure quality and comfort every time.

At Dometic RV Centre our goal is to provide the best shopping experience, while delivering superior products and service. All of our staff members are skilled professionals who will answer all your questions and will make your next caravan adventure easy, fun and enjoyable.
HIDE CATEGORY DESCRIPTION ^
SHOW CATEGORY DESCRIPTION v