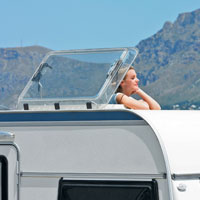 Other
Caravan Window Systems – Style, Ventilation, Comfort
Dometic windows and caravan access hatches are becoming more and more popular with our customers, especially since they come with improved insect proofing to keep out creepy crawlers. Our products will provide you with maximum security and frames that are designed to reduce condensation. Their special features also include a fly screen and roller blinds and are easily operatable with just one hand.

Are you looking to upgrade your mobile home? If you have always wanted to set up a skylight, but have been dreading the installation, then our products are exactly what you need. Our caravan skylights are quick and easy to fit and are made from robust and weather-proof ASA that has been developed specially for motor homes. The large opening allows for plenty of light and optimal ventilation. They are also equipped with a built in roller blinds system. Their double glazed acrylic panel is easily opened and when locked in the bad weather setting, rain cannot penetrate into the caravan and wind cannot lift the panel from its secured position. Buy caravan skylights from the Dometic RV Centre and improve your motor home now!

Dometic's RV access hatches are very robust, secure and versatile. They can be fitted in the opening on the vehicle without the use of any screws and are suitable for both vertical and horizontal assembly. Now you can quickly access your storage space or just simply slide out the BBQ or portable fridge and enjoy the great outdoors.

The Dometic RV Centre is the leading company in customer satisfaction and know-how. We offer the highest standards in service and quality products, which are easily installed and user friendly.

Our range of products covers all your needs, buy caravan windows through us and you too can become a content client.
HIDE CATEGORY DESCRIPTION ^
SHOW CATEGORY DESCRIPTION v