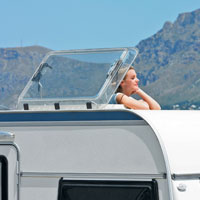 Other
COOLPOWER 44AH BATTERY (RAPS44)
$379.00
Incl. 10% GST
RAPS44
COOLPOWER 44AH BATTERY LONG LASTING PORTABLE 12 VOLT BATTERY
The WAECO CoolPower RAPS44 portable heavy duty 12 volt battery is the ideal choice for running a portable compressor fridge/freezer for long periods of time.
Like the RAPS36, the upgraded version RAPS44 is a genuine WAECO manufactured rugged deep cycle
portable 12 volt battery pack with superior discharge/charging cycle capability and now with 44 amp hours.

Specifically designed to run WAECO compressor fridge/freezers, it has the benefits of dual battery systems that are normally fitted permanently into cars, 4WD's, trucks and boats, except that it is portable for added flexibility and convenience.
Designed for portability with an ergonomic handle, the CoolPower RAPS44 is easy to take camping and set up alongside the WAECO portable fridge/freezer anytime and anywhere.
FEATURES
Dual output sockets (12 volt and hella) - ideal for running
12 volt portable fridge and LED lights simultaneously
44 Ah deep cycle AGM battery cells
Built-in charging posts for charging via 240 volts to DC
charger (charger not included)
1.5 m 12 volt charging lead
Digital volts display
Battery condition LED's/test button
Rechargeable via solar panels
Secure screw connection charging socket
1 year warranty