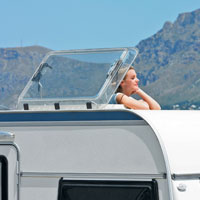 Other
MILENCO LEVEL TRIPLE PAIR (M-2936)
$125.00
Incl. 10% GST
Milenco Triple Level
This is the tallest (160 mm) 3 step level ever made.The level incorporates lattice, high-grip upper tread surface. They pocket the wheel at every height eliminating the need for chocks.
They have a solid base to stop sinking on soft ground.

2 year warranty
FEATURES
Dimensions : 18cm High x 24.5cm Width x 61cm Length Height of each step: 4cm/8cm/12cm
Weight: 2.5kg per level
Capacity 2000kg per wheel = 8000kg Motorhome or 4000kg Caravan.
Sold in pairs complete with carry case
WARNING: DUE TO THE HEIGHT OF THESE LEVELS THEY MUST NOT BE DRIVEN OVER. ALWAYS REVERSE BACKWARDS OFF THE LEVEL.

DRIVING OVER THE LEVEL MAY RESULT IN EXTREME DAMAGE TO THE VEHICLE OR LEVEL.