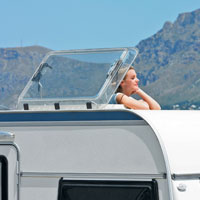 Other
MILENCO LEVEL QUATTRO PAIR (M-2615)
$175.00
Incl. 10% GST
Milenco Quattro Level (Pair)
We think this is the best level ever made. It effectively makes other levels look like toys. We are very proud of the light weight innovative design (patent pending) registered design. This gets over all of the problems using conventional levels on soft ground, but more importantly it's twice as high as conventional plastic levels, which are never quite high enough.
The worlds only 4 step Polymer level. Completely new for 2009. This is the tallest and widest level ever made for a Caravan or Motorhome. Incorporates lattice, high-grip upper tread surface. Pocketing the wheel at every height eliminating the need for chocks. Solid base, which makes it suitable for use on soft ground or sand.
High grip leading edge eliminates the need for gripper plates.
Complete with storage bag.
2 year warranty

MILENCO LEVEL TRIPLE PAIR
(M-2936)
610mm x 230mm x 160mm
$

125.00
Incl. 10% GST
DETAILS
COMPARE
ADD TO CART

MILENCO LEVEL INDICATOR GAUGE
(M-3117)
$

20.95
Incl. 10% GST
DETAILS
COMPARE
ADD TO CART
FEATURES
Dimensions 21cm high x 25cm wide x 81cm long
Height of each step: 4cm, 8cm, 12cm, 16cm
Weight: 3.8kg per level
Capacity 2000kg per wheel = 8000kg Motorhome or 4000kg Caravan.
Sold in pairs complete with carry case
WARNING: DUE TO THE HEIGHT OF THESE LEVELS THEY MUST NOT BE DRIVEN OVER. ALWAYS REVERSE BACKWARDS OFF THE LEVEL.
DRIVING OVER THE LEVEL MAY RESULT IN EXTREME DAMAGE TO THE VEHICLE OR LEVEL.