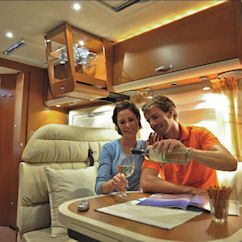 Lighting
Dometic lights boast an elegant minimalist design which blends into every interior. Choose from a wide variety of products to create a tailor-made lighting concept for your recreational vehicle.
Recessed spots - Gentle room or reading light for a perfect fit.
Surface mounted spots - Bright and pleasant light, partly pivoting and for use as a reading lamp.
Compact designs permits fitting in narrow spaces.

HIDE CATEGORY DESCRIPTION ^
SHOW CATEGORY DESCRIPTION v