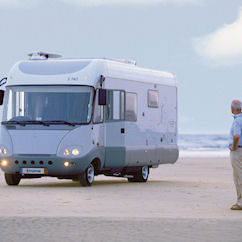 Heating
TRUMA AQUAGO COMFORT KIT WHITE (AQUAGO-WHT-KIT)
$2,419.00
Incl. 10% GST
Truma AquaGo®

A new generation of instant water heaters when on the go!
Truma has developed a new generation of instant water heater that is perfectly balanced to enhance comfort for recreational vehicle owners.
Vehicles equipped with the new Truma AquaGo™ are able to set a comfortable water temperature and receive an unlimited supply of hot water.
In just six seconds the Truma AquaGo™ will provide instantaneous hot water and continuous flow to any recreational vehicle.
This tried and tested water heater features a powerful microprocessor controlled step-less burner management
system, which allows heat to rise and maintain a toasty 49 °C.
With safety in mind, the Truma AquaGo™ has a host of great features including: over temperature shut down; flame monitoring device; low voltage sensor; and a water thermal and exhaust gas over temperature cut off.
2 year warranty
SPECS
Weight: Approx 15.5kg
Length:
Depth: 450mm including pipe connection
Height: 324mm
Width: 324mm
Heat Settings:
Electrical Power Consumption:
Water Pressure: 4.5 bar
Gas Comsumption:
Fuel Consumption:
Standby Current:
Current Consumption: 2.5 amps
Operating Voltage:
Water Capacity: 1.3 litres
Voltage: 12 volts DC
Water Temp: 49 degrees
Normal Thermal Output:
Heating Element:
FEATURES
Instant water heater utilising hybrid technology with
patent pending temperature stabilizer
Intuitive operation, testing water inlet temperature and
adjustable gas consumption accordingly
Powerful water heater using microprocessor controlled
step-less burner management between 5.9 – 17.6 kW
Electronic control delivers constant water outlet
temperatures, even in varying inlet water temperature
Semi-automated decalcification: LED's on the control
panel indicate when the device needs to be decalcified
and guide through the decalcification process
Simple maintenance with "Easy Drain Lever" provides
"no tools" draining
Reusable filter cartridge reduces scale particulates
Slides into an existing common cut out - making
upgrading or replacing an easy task
Available in white or black door finish