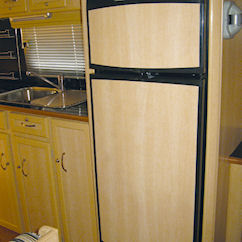 Fridges
RML8551 189LT ONE DOOR RH (RML8551RH)
$2,899.00
Incl. 10% GST
Dometic 8-series: the fridges of the future
Easy to use, stylish and ultra-efficient: the Dometic 8-series sets new standards for absorption refrigerators. Innovative designs and colourful accents transform the high-quality appliances into stylish design pieces. The exterior large décor panels create a unique furniture character. The fridge interiors have a pleasant ice-blue colour, provide light using energy-efficient LEDs and feature a multitude of user-friendly details.

Dometic RML8551 - 189 litre 8-series absorption refrigerator with automatic ignition
With MES (Manual Energy Selection) - Just select the fuel type and the electronic MES control system will initiate your selection. MES series absorption refrigerator for 12 volts, 240 volts and gas. Single-curved door models, 525 mm wide.

Patented removable freezer compartment, fingertip door opening, interior light, door with magnetic seal, replaceable door seals, door locking with vent option, user friendly control panel, flexible arrangement of shelves, ergonomic door shelves with leakage protection.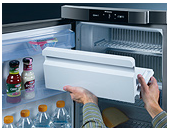 Patented worldwide an innovative clip system allows fast and easy removal of the freezer compartment.
SPECS
Insulation: Pentane-blown foam
Energy Supply: 12 volts DC 230 volts AC LPG
Weight: With freezer compartment 44.5 kg
Depth: 626mm
Height: 1245mm
Colour: Cabinet & Door: Silver-Grey
Width: 525mm
Materials: Cabinet: coated sheet steel Door, panel: plastic
Cooling Capacity: Refrigerator + 7degrees, freezer compartment up tp -12 degrees at ambient temp. up to + 32 degrees
Capacity: w/out freezer compartment: 189 litres w freezer compartment 179 litres
Cut Out Required:
Freezer Capacity: 33 litres
FEATURES
Absolutely silent
Maximum cooling and freezing capacity
Patented, easy-to-remove freezer compartment
Secure door locking with vent option
Simple fingertip door opening
NEW: Also available as frameless versions. Delivery time approx. 6 - 8 weeks.
User-friendly control panel
Flexible shelf system
MES (Manual Energy Selector)
Without freezer compartment: 189 litres
With freezer compartment: 179 litres
Freezer internal volume: 33 litres