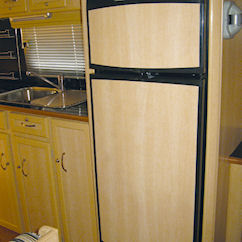 Fridges
RM4606 184LT FRIDGE UES (RM4606)
$3,550.00
Incl. 10% GST
Dometic RM4606
Dometic Australia has released the newest in their range of mobile absorption refrigeration with the 185 litre RM 4606 three-way upright refrigerators using the latest in Dometic technology.
The RM 4606 is the new improved version of the RM 4605 and is ideal for caravans, motorhomes and campers that require an upright absorption fridge with a large internal capacity of 185 litres.
This new model has a sleek and refined design, with an efficient thermostatically controlled fan system that assists with the cooling process.
Like the rest of the RM series, the RM 4606 has the ability to run off three power supplies by using the new Universal Energy Selection (UES) control system, which provides complete flexibility and usability when on the road.
Using Dometic's superior absorption technology, this fridge is completely silent, allowing the traveller to sleep in peace when taking their RM 4606 on the road.
The UES control system allows a greater internal capacity of the RM 4606 so more room to fully stock all the perishable items – keeping them fresher for longer.
SPECS
Insulation:
Energy Supply: 12 240 volts and LPG
Weight: 56.5kg
Depth: 661 mm
Height: 1385 mm
Colour:
Width: 632 mm
Materials:
Cooling Capacity:
Capacity: 185 litres
Cut Out Required: W607 x H1365 x D620 mm
Freezer Capacity: 48 litres
FEATURES
• New patented UES (Universal Energy Selection) control system
• Switchable to either MES or AES function
• T-rated performance
• User friendly control panel featuring LED indicator lights
• Universal LP Gas compatible
• Easy changing of the door from left to right with the included hinge kit
• Quick and easy removal of shelves
• Generous door and wall insulation for greater performance
• Self-draining drip tray
• Change the door face to suit the décor without removing the door
• Two large fruit and vegetable crispers
• Gas operation 12 volt powered ignition, thermostatic control for 240 volts, 12 volts and gas
• Wide metal mounting flanges for built in application – no exterior skin
• Interior light