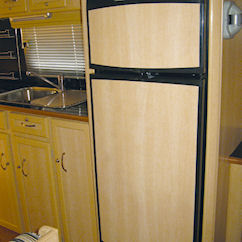 Fridges
REF/FZR 2DOOR COMP ACDC 218L (RPD218)
$2,735.00
Incl. 10% GST
CoolMatic RPD-218
Dometic Australia recently released WAECO CoolMatic RPD-190 and RPD-218 two door compressor driven refrigerators, replacing the existing RPD-175 DC and RPD-215 DC, for motorhomes, caravans and boats.
The new RPD-190 and 218 models in the WAECO CoolMatic RPD series include a number of enhancements such as increased capacity, automatic front flange heating via internal dew point coil, AC integration, bottom internal ventilation and improved performance at high ambient.
Both RPD models now have a revised height that manufacturers need to consider due to a 20mm increase in required cut-out height. The depth has been reduced by 32.5mm (now total 580mm) which allows them to fit through doors sideways.
Compared to the last models, the new RPD-190 and 218 also have a less intrusive drain system formed in liner, flush-mounted LED lighting and flat rear liner that makes it easier to clean.
"It is easy to see why the new replacement RPD fridge models are being introduced - with all their added benefits and quality performance that customers expect from this type of product," said Andreas Bischof, Managing Director, Dometic Australia.
"We are continuously striving to make improvements on our products to meet our customers' needs and the constantly evolving market so we hope the new RPD models are received well."
Specifically designed for the high end motorhome, caravan and boat market, the RPD upright compressor fridge and freezers fit elegantly into any interior.
The refrigeration and deep freeze compartments in the RPD series can be accessed separately, preventing unnecessary cooling losses when opening the doors, plus enables temperatures as low as -18°C to be achieved comfortably.
SPECS
Insulation:
Energy Supply: DC-12/24V & 100-240V AC
Weight: 53kg
Depth: 580mm
Height: 1607mm
Colour: Satinless look finish
Width: 633mm (at top control area)
Materials:
Cooling Capacity:
Capacity: 218 litres total
Cut Out Required: W610-620mm H1580-1590
Freezer Capacity: 44 litres