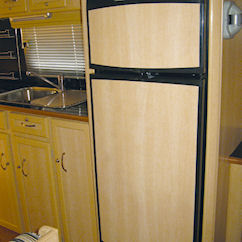 Fridges
FRIDGE & FZR COMP 2 LID 94.5L (CFX-95DZ2)
$1,899.00
Incl. 10% GST
WAECO CFX-95DZ2
The new WAECO CFX-95DZ2 might seem like a mouthful but the name sums up the compressor fridge and freezers' extra-large specifications, capabilities and usability for mobile living purposes.
It is the biggest WAECO CFX in the range and has some unique features that are in addition to the WAECO CFX series.
The CFX-95DZ2 has two compartments that can each operate independently in any combination as fridges or freezers and have the ability to achieve -18°C simultaneously in up to 32°C ambient.
"You can set the two compartments to any combination you wish – one freezer and one fridge, two fridges or two freezers – the choice is yours!" said Andreas Bischof, Managing Director, Dometic Australia.
Exclusive to this model, the CFX-95DZ2 also comes with a Wi-Fi CFX app that allows the user to control the temperatures of the compartments from their smart phone or tablet.
"We have designed an Android and iOS app that helps people control their fridge and freezer easily by setting and monitoring the temperature in both separate compartments without having to be physically by their fridge," said Mr Bischof. "You can also get alerts when the fridge is opened or temperatures have deviated from the set high or low temps."
"These days there's an app for everything on the market so we thought why not create a function that allows a mobile fridge / freezer to be even more mobile – by controlling it with your mobile – that's a seller!"
Some other key features of the CFX-95DZ2 include detachable/reversible lids, ergonomic control panel, blue LED display, 240 volt AC and 12/24 volt DC, USB charging outlet and more.

Designed for the harshest Australian conditions, WAECO CFX-95DZ2 keeps your food and drinks cold or frozen, when and where it suits you – perfect for those long caravan and camping trips.
SPECS
Insulation:
Energy Supply: 12 volts and 240 volts
Weight: 32kg
Depth: 530mm
Height: 472mm
Colour: Grey
Width: 900mm
Materials:
Cooling Capacity: 1.25 Ah/h (@12 V, 5°C interior – both compartments, 32°C ambient temperature)
Capacity: 94.54 litres
Cut Out Required:
Freezer Capacity: