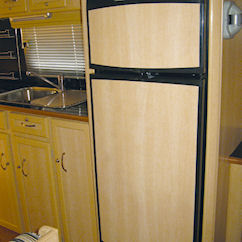 Fridges
DRAWER FRIDGE 30L (CD-30)
$825.00
Incl. 10% GST
CoolMatic CD-30
Different though they are, caravans, boats and trucks have one thing in common: onboard space is limited, and you've often no space to spare for a cooler. The trick is to make intelligent use of the available space. This is where our CoolMatic CD-30 drawer fridge provides a smart solution.

Free and easy in the sun, but no space to spare for snacks and drinks? Help is underway, It can be fitted wherever unutilised space is available. In mobile kitchens, under the thanks to WAECO. The compressor powered drawer fridge, CoolMatic CD-30, turns seat, even in an outside storage compartment of your camper vehicle. Now you've vacant niches in caravans, boats and trucks into a practical cold store. got an outdoor cooler in your awning – enjoy your picnic at the campsite!

SPECS
Insulation: CFC-free polyurethane foam
Energy Supply: 12/24 volt DC
Weight: Approx. 18 kg
Depth: 560mm or 730mm including compressor
Height: 250mm
Colour: Black
Width: 440mm
Materials: Sturdy metal housing with injected moulded parts
Cooling Capacity:
Capacity: Approx. 30 litres
Cut Out Required:
Freezer Capacity: n/a
FEATURES
Sturdy metal housing with injection moulded parts
Metal slide system
Metal latches
Unlocking and opening with a single movement.
Secure closing mechanism.
Suitable for solar operation
Convenient access to cool snack and drinks with easy-pull drawers running on roller bearing.
Continuously variable thermostat.


160W/24V ADAPTER SW/MODE
(MPS-50A)
260mm x 185mm x 80mm
$

179.00
Incl. 10% GST
DETAILS
COMPARE
ADD TO CART