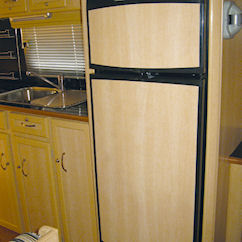 Fridges
Buy caravan refrigerators online from Dometic

Do you always know where your journey will take you? You don't have to when you have a Dometic absorption refrigerator on board. A Dometic fridge can easily cope with three different power sources, making it an excellent choice when it comes to a caravan refrigerator. Whilst some models feature Manual Energy Selection, other models feature Automatic Energy Selection, which automatically selects the best available energy source for you. Browse our online range and discover why we are the leading supplier of caravan refrigerators Australia wide. The type of refrigerator you choose will depend on your requirements. When you are far away from civilisation gas operation is recommended as it will not run down the vehicle battery. Having a mains connection available though, is a better option for caravan fridges.

Buy caravan fridges online through Dometic and discover all the benefits that come with quality products. A huge advantage of the Dometic absorption refrigerator is that they are silent, an added benefit when it comes to caravan fridges.

Compressor refrigerators – supercool in every situation

The legendary performance and reliability of WAECO upright refrigerators is due to the high-tech Secop (formerly Danfoss) compressors built into all of its models, making them the best caravan fridges Australia has to offer. They ensure faultless service even when faced with tropical temperatures or inclined positions. All this at minimal energy consumption – WAECO compressor refrigerators are both efficient and quiet. They are ready for connection to 12 / 24 volts. Whilst some come with 240 volts mains operation built-in, others are supplied with an optional rectifier for mains operation. Alternatively you can tap into the sun's energy as they are ideally suited for solar operation.

The WAECO compressor range also includes portable fridge/freezers for additional fridge or freezer space. They are available in various sizes and configuration to suit your cooling needs.

With a large range of Dometic caravan refrigerators for sale, all at attractive prices, you will find the right refrigerator for your caravan.

Buy a caravan fridge or refrigerator parts online

In addition to caravan fridges, we also have Dometic refrigerator parts available, should there be a problem with your fridge.
Browse our range online and find out which caravan fridges are for sale, or visit the team at Dometic for further assistance.

Which portable fridge is for me?
HIDE CATEGORY DESCRIPTION ^
SHOW CATEGORY DESCRIPTION v