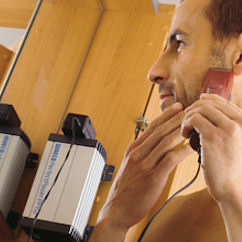 Electrical

MDT-100 DYNAMO TORCH (MDT-100)
$29.95
Incl. 10% GST
PocektPower MDT-100
Dynamo charged torch with tool kit
Portable light wherever you go.
SPECS
Weight: 228g
Length: 150mm
Depth:
Height:
Width: 55mm
Diameter:
Input Voltage:
Charging Voltage:
Battery Voltage: 3.6V, 80mA lithium
Charging Current - max:
Charging Current -continuous:
Continuous Power:
Voltage:
Peak Power:
Efficiency:
FEATURES
A dynamo-charged torch with LED light and a long lasting lithium battery.
The on-board dynamo crank handle lets you charge the battery. So you dont need any other power source.
Select the amount of light you need, either 1 LED or all 3.
As an added bonus there is a 6-tool kit cartridge for those little emergency repair jobs and a universal mobile phone charger plug (adaptor not included).
A truly mobile solution.