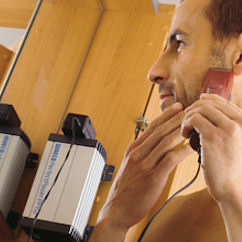 Electrical
MCA1215 BATT CHARGER 15A 12V (9108400809)
$289.00
Incl. 10% GST
WAECO PerfectCharge
MCA Battery Chargers - MCA 1215
15A 12V
The IU0U battery chargers from WAECO PerfectCharge use a unique six-stage charging cycle.
They provide optimum charging for all Gel, AGM and Wet batteries, while charging quickly and
gently.
The MCA chargers can be used to continuously charge house or starter batteries. This allows
the batteries to be charged and to maintain a high charge level.
A control lamp on the device enables constant monitoring of the battery charger while the
cooling system uses a fan that speeds depending on the charging power and can be switched
off using an external on/off remote switch.
The low weight and compact design of the WAECO PerfectCharge battery chargers allow for
easy installation in caravans, commercial vehicles or motorhome and boats.
SPECS
Weight: approx. 1.6kg
Length: 179mm
Depth:
Height: 63mm
Width: 238mm
Diameter:
Input Voltage: 230 volt AC – 50 Hz
Charging Voltage:
Battery Voltage:
Charging Current - max: 15 amps
Charging Current -continuous:
Continuous Power:
Voltage:
Peak Power:
Efficiency:
FEATURES
6-stage IU0U charging characteristics optimised for charging Wet, Gel, AGM and eStore Lithium battery (Dip switch to adjust charging of Victron and Enerdrive LiFePo4 batteries)
Almost half weight of old series IU charger with 40% smaller footprint
Charging method configured through the dip switches at the rear of charger
Ultra compact design - easy to install and light weight
Up to 3 charging outputs for simultaneous charging of several batteries - 2 House batteries + 1 Starter battery
Sleep mode for quiet charging with half the charge power (stops fan)
Advanced battery management system. Basic On/Off remote switch, and Hella battery sensor available as accessories
Hella battery sensor to optimise charging level and collect data for optimising the charging process (voltage, current, state of charge and battery temperature)