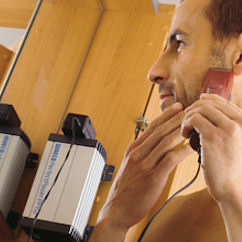 Electrical
Caravan power and electronics - Home comfort away from home
From mobile power supply to voltage converters, now you can enjoy the same comforts on the road that you are used to at home with professional caravan electronic accessories. The WAECO "Mobile Energy Systems" range includes everything you need for perfect power supply on the road. With some of our chargers you can charge up to three batteries simultaneously, so you always have enough power when you're out and about. You can also charge your laptop, shaver or mobile phone with our 150 watt can inverter using your car's battery through the cigarette lighter.

Battery chargers prolong the service life of your on-board batteries, come to us for the best caravan battery technology available. Charging converters and IUOU chargers ensure they are fully and gently charged. With superior, intelligent technology, there is an automatic cut-off option, switching itself off when the full charge is reached. You don't have to go without the convenience of a 240 volt power socket when you are travelling. With our wide range of inverters you will be able to use all the equipment you usually use at home when you are travelling. Voltage converters turn 12 volts into 24 volts (or vice versa), helping you to make more flexible use of your mobile equipment.

The WAECO range of mobile technology offers solutions for your care-free holiday and allows you to take your household comforts with you. They deliver safe, reliable and convenient solutions even when you are miles away from home. The range of products includes deep cycle batteries, the best RV battery technology you can get and wiring kits that ensure a minimal voltage drop between your car's battery and your appliances. Now you are able to enjoy all of your home comforts, when out, exploring the world.
HIDE CATEGORY DESCRIPTION ^
SHOW CATEGORY DESCRIPTION v