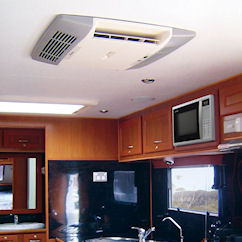 Cooling
BR342 AIRCONDITIONER + ADB (BR342-ADB-KIT)
$1,647.00
Incl. 10% GST
BR342
Dometic Australia introduces the new innovative BR342 Rooftop air conditioner. Fresh with newly added features, this Rooftop Unit + Air Distribution Box (ADB) will be the perfect addition to any large RV. Suitable for vehicles up to 7.5 m in length, the BR342 now features reverse cycle air conditioning, providing powerful heating and cooling performance.
This leading edge air conditioner features advanced functionalities that have dramatically enhanced its overall performance. With condensation drain outlets allowing optional attachment of tubing to direct runoff away from door-ways or windows and a vertical compressor for reduced vibration. Also available, an optional electronic wall control with remote control.
Conveniently the BR342 air conditioner is 20% lighter with a reduced roof footprint compared to its predecessor, has 3 fan speeds, and can operate on most premium brand inverter type generators of 2 kWs and above*.
Cruise in comfort today. The BR342 air conditioner is cost effective, has advanced functionalities and now comes with reverse cycle air conditioning, making it the ultimate upgrade for your large RV.
SPECS
Weight: approx. 40 kg
Depth:
Height: 283 mm
Width: 670 mm
240volt power consumption - cooling:
Input Voltage:
240volt power consumption - heating:
Heating Capacity: 43 degrees celcius
Cooling Capacity: -7 degrees celcius
Roof Opening:
Recommended Generator:
Standard Roof Thickness: 38.1 - 165.1 mm