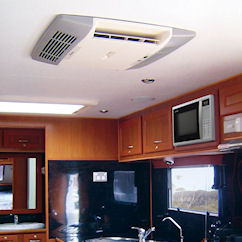 Cooling
Hot or cold days, roof mounting or installation inside the vehicle.
Dometic has the right solution for every situation!
Roof air conditioners
Fast and easy roof mounting normally the air conditioners simply replaces the existing roof hatch. Dometic roof air conditioners have been adapted to the measurements of commonly used roof hatches.
Efficient operation
Roof air conditioners use the physical principle that cold air sinks. The cold air streams are spread in the vehicle interior in an energy-saving manner and without performance loss.
Underbunk air conditioners
Underbunk installation retain full use of the roof hatch of your caravan or motorhome. The roof load and outside dimensions of the vehicle are not affected. The air distribution can be flexibly adapted to the specific situation inside the vehicle using flexible ducting.
HIDE CATEGORY DESCRIPTION ^
SHOW CATEGORY DESCRIPTION v