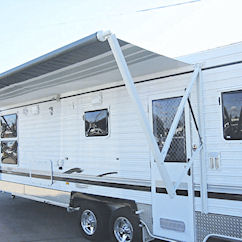 Awnings
Add style and comfort to your RV with a Dometic awning.
A&E Dometic awnings enhance the look of your RV. When combined with the quality life-long features; of course more people are choosing the Dometic range over other brands. All Dometic awnings come in a range of colors' with horizon strip pattern & heavy-duty polyester reinforced vinyl fabric.
To fit virtually any vehicle, Dometic awnings are available with our reliable heavy duty hardware in straight and curved shapes.
- Exclusive to Dometic, permaloop pull strap
- Low positioned ergonomic lock knobs for easy use
- Easy operation universal hardware for fast effortless one person operation
- Alloy cast ends with bronze sleeve bushings
- Heavy duty torsion spring assemblies
- Heavy duty 3 ply polyester reinforced vinyl fabric ensuring durability and longevity

Awnings are listed in 2 parts:

1) Roller tube and fabric

2) Hardware

You must order both to recieve a complete awning
* except Catalina and Slidetopper which are complete awning assemblies.
HIDE CATEGORY DESCRIPTION ^
SHOW CATEGORY DESCRIPTION v
Dometic Annexe Wall Systems