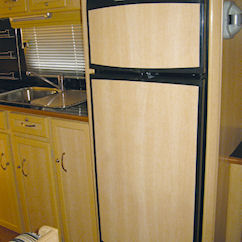 Fridges
RMD8555 190LT TWO DOOR LH AES (RMD8555LH)
$2,999.00
Incl. 10% GST
Dometic RMD 8555
With a climate class rating of 'T', the Dometic RMD 8555 is rated for tropical conditions which means that regardless of hot temperatures outside, the RMD 8555 will still run icy cold inside. The insertion of special vacuum panels directly into the sidewalls of the fridge help makes this impressive level of performance possible. By setting these unique vacuum panels inside fridge walls, Dometic has been able to drastically increase RMD 8555's quality of internal insulation without increasing the thickness of its walls, so it retains its ergonomic profile without compromising efficiency.
As part of Dometic's new 8-Series family of fridges with freezers, the RMD 8555 utilises three-way energy technology which allows the appliance to run on either 12V, 240V or LPG power supplies. The RMD 8555 from Dometic uses an innovative automatic energy selector, or AES, to intuitively select the best possible energy option based on your available energy supply at any given time. With AES technology, you'll never have to worry about losing one power supply in order to keep the RMD 8555 running continuously.
Inside the RMD 8555, you're also treated to the highest level of flexibility as shelves and racks can be removed, rearranged and customised to accommodate your own specific requirements. The RMD8555's racks are easy to clean too, so you can always enjoy a fresh, clean fridge.
The RMD 8555's sleek outer appearance will complement the look of any modern caravan or motorhome's kitchen, but it's also been cleverly designed to complement its function. An integrated door lock keeps your food secure, even over bumpy roads and uneven terrain. It also enhances insulation and helps to eliminate cold bridging, while separate doors for the fridge and freezer sections help prevent valuable energy from being wasted. The RMD 8555 also features an upgraded control panel with LED display that takes user-friendly operation to a whole new level.
SPECS
Insulation:
Energy Supply: gas / 12 volts and 240 volts
Weight: approx. 41.5 kg
Depth: Overall 622 mm
Height: Overall 1245 mm
Colour: Black
Width: Overall 523 mm
Materials:
Cooling Capacity:
Capacity: 190 litres with freezer
Cut Out Required: W527 x H1249 x D572 mm
Freezer Capacity: 35 litres
FEATURES
Removable shelves
Automatic Energy Selector (AES)
12V, 240V or LPG power supplies